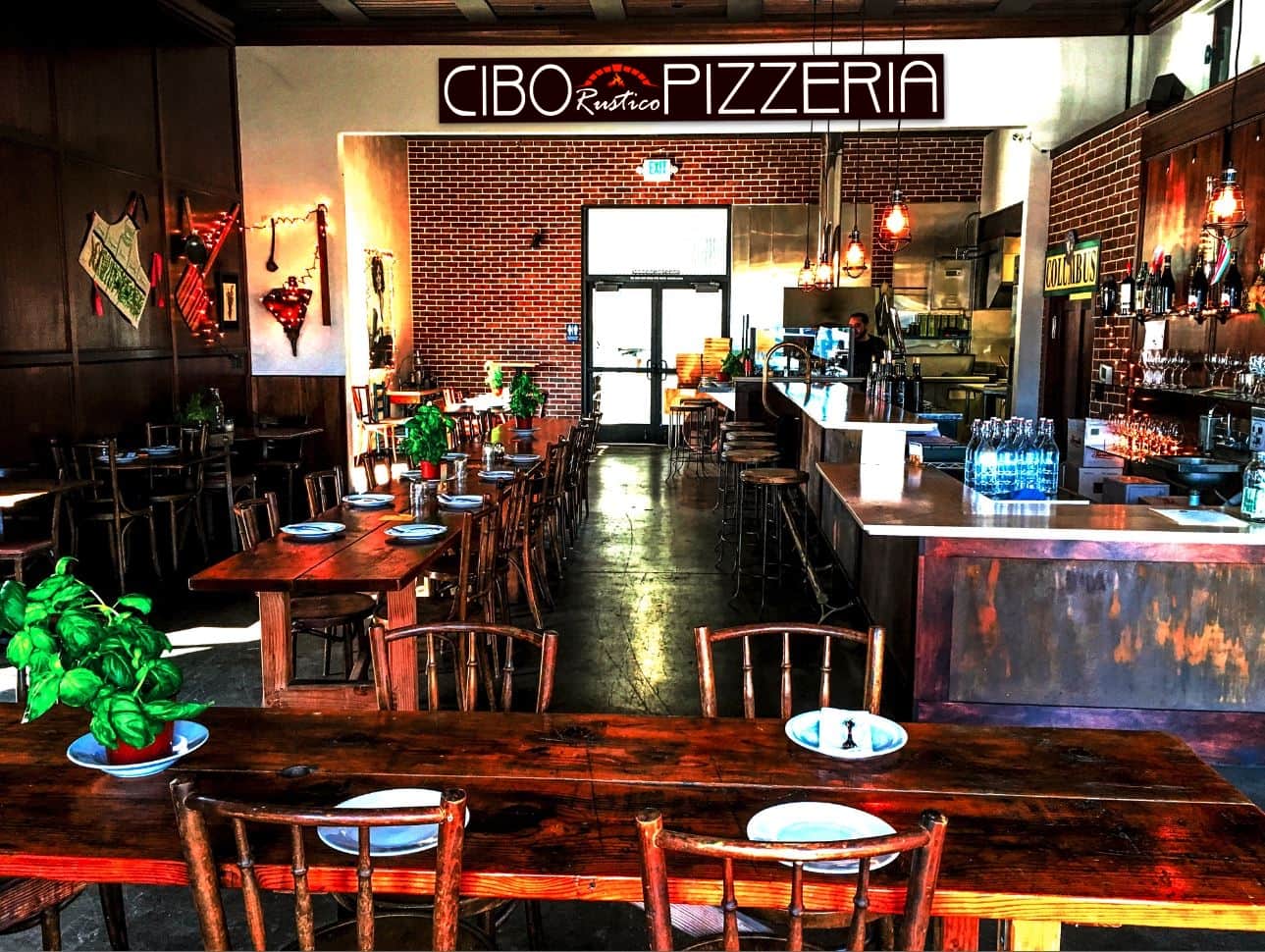 Italian Style Best Pizza Restaurant in Santa Rosa
Best Pizza in Santa Rosa.  Cibo Rustico is an Italian Pizza Restaurant in Santa Rosa serving the best Authentic "Italian Style" wood-fired pizza.  Pizza and tapas plates the whole family will enjoy.  Great ambiance, family style environment, casual and dog friendly patio. When you walk into our Pizza Restaurant you will be greeted with complimentary wine tasting and bread-sticks.  We have added mouth watering appetizer plates.  Take a look at our pizza menu for more details.
Thin Crust Pizza, Organic Vegetables and Salads, Italian Tapas Plates
"Italian Style" wood-fired pizza made with thin crust and authentic imported ingredients from Italy.  We promise to use only the best ingredients on our pizza.  Gluten free crust is also available upon request. Our organic vegetables and spices are sourced from local and organic farmers.  Our veggie dishes are served family style on large hand-made wood wine barrel boards made by the owner.  Serious servings for your dinner party.  All roasted in the best wood-fired pizza oven.  Our salad selection is healthy, tasty and sure to please any local Sonoma County resident or visitor that appreciates organic.  Tapas plates and pizza are also available for pick up in Santa Rosa.
Wine Bar and Craft Beer on Tap
Our wine bar consists of imported fine Italian wines and local wine from D'Argenzio Winery considered to be the best wine bar and winery in Santa Rosa, CA for Italian wines.  Chardonnay, Pinot Noir, Cabernet, Merlot, Zinfandel, Sangiovese and more.  Local craft beer on tap from our neighbors that are just steps away at Fogbelt Brewing Company.
Private Dinner Party or Event
Indoor and outdoor seating surrounded by micro-wineries, brewery and an organic juice bar and cafe nestled in an Urban Winery Village setting. Located in Santa Rosa Vintners Square.
Book an event, private party dinner or company pizza luncheon.  Call for more information regarding the best time to book.
Private Dinner Party Room, Banquet Room, Outdoor Private Patio and Event Space Available.
Hours & Location
Wednesday – Thursday 5PM-9PM
Friday & Saturday NOON-10PM
Sunday NOON-8PM
Closed Monday and Tuesday
Check out our Yelp reviews.
Best Pizza Restaurant located right off of Hwy 101

For Reservations please call ahead at phone (707) 623-9906 or you can make your reservations online.


Private Party Dinners and Events Welcome
Email: info@ciborustico.com